According to the United Nations Environment Programme report, water resources, usually referred to as freshwater resources, only account for about 2.5% of the total water on earth. They are very scarce as an indispensable resource for human production and life. Therefore, protecting water resources is a security issue that everyone must be aware of.
Being committed to providing solutions for water conservation, RainPoint has designed a smart irrigation controlling system based on WiFi and RF technologies around the "Smart Platform." The entire system can be compatible with multiple sensors to monitor indoor and outdoor environments and auto-control the garden irrigation based on the data. Combined with IoT technology, it uses self-developed algorithms to collect and upload sensor data. Through the visualization weather station hub to access the sub-device to the cloud platform, Rainpoint is creating a smart IoT home irrigation ecosystem for users to make life easier.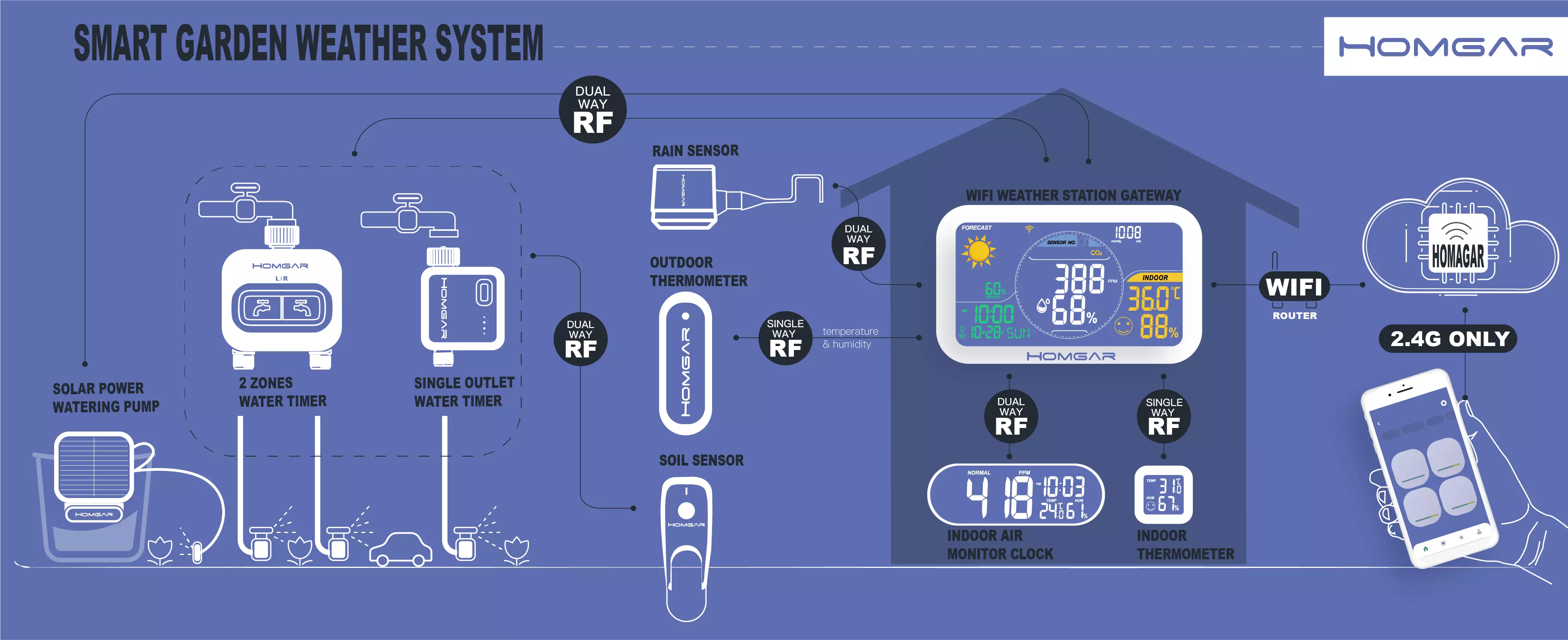 The weather station gateway HWS388 integrates hub and weather station functions. Working as a hub center, it is compatible with indoor hygro-thermometers, soil sensors, flow sensors, etc. The data collected by the sensors can upload to the gateway and Homgar APP via WiFi. It also works as a weather station to obtain the weather forecast data of the day. A built-in barometer can independently monitor the indoor air pressure value and display it through the LCD screen.
As an advanced product for the smart irrigation system, Rainpoint launched a dual-way water timer, HTV203, which is designed with 2 outlets for different watering needs. It can simultaneously be paired with the HWS388 weather station hub and soil sensor. The irrigation frequency and duration can be set through Homgar APP. As a timer with two outlets, it can set two different irrigation schedules according to the weather, temperature, humidity, and vegetation characteristics without using a splitter. With the separately watering in different zones at different times, the 2 outlets hose water sprinkler can save the extra cost of purchasing multiple single-way controllers to beautify the garden.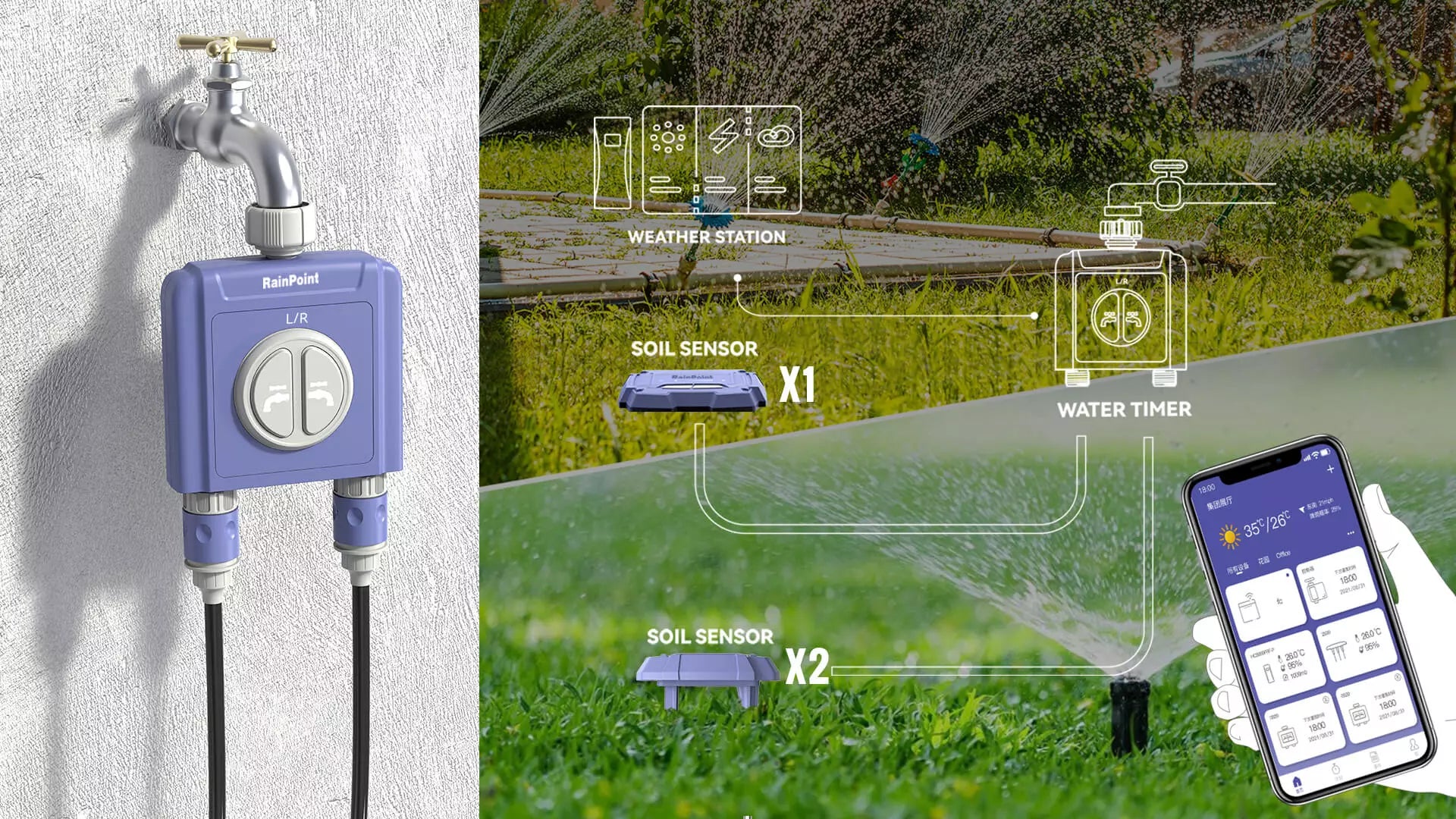 HTV203 has a built-in water flow meter, which can track your real-time water consumption and record it on the APP. The data display can help you precisely control the water schedule and quantity. Whether at work or in bed, you can find how everything goes on around you and make schedules to the water timer as you wish, giving your plants a perfect watering schedule.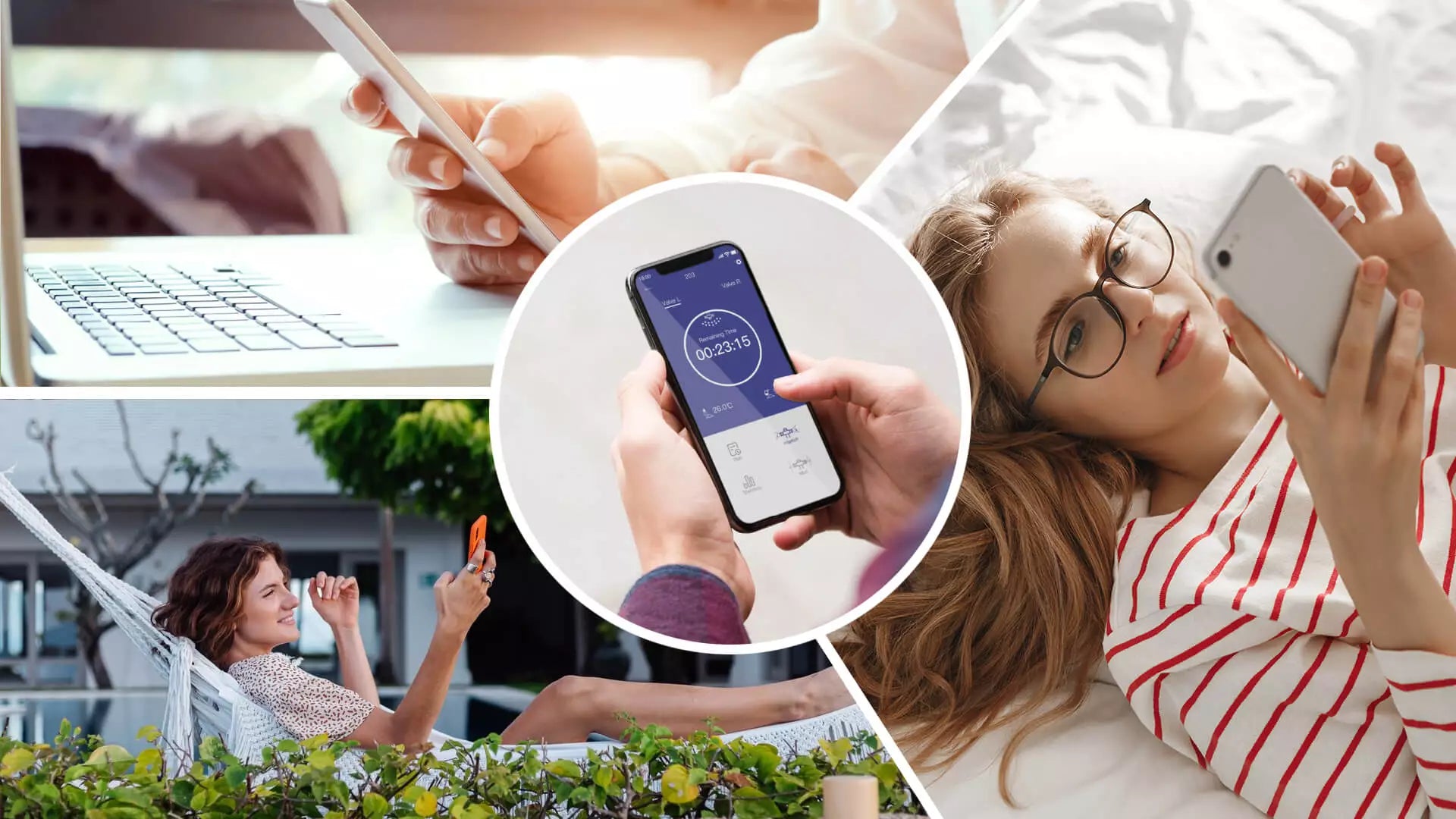 HTV203 also has a button for manual watering mode, which not only supports smart WiFi control. When you find your plants need more water than scheduled, you can manually press the button for occasional watering to get the plants enough water. When you think it is enough, you can just simply press the button again to stop. It's super easy for you to temporarily adjust the irrigation process out of the scheduled plan.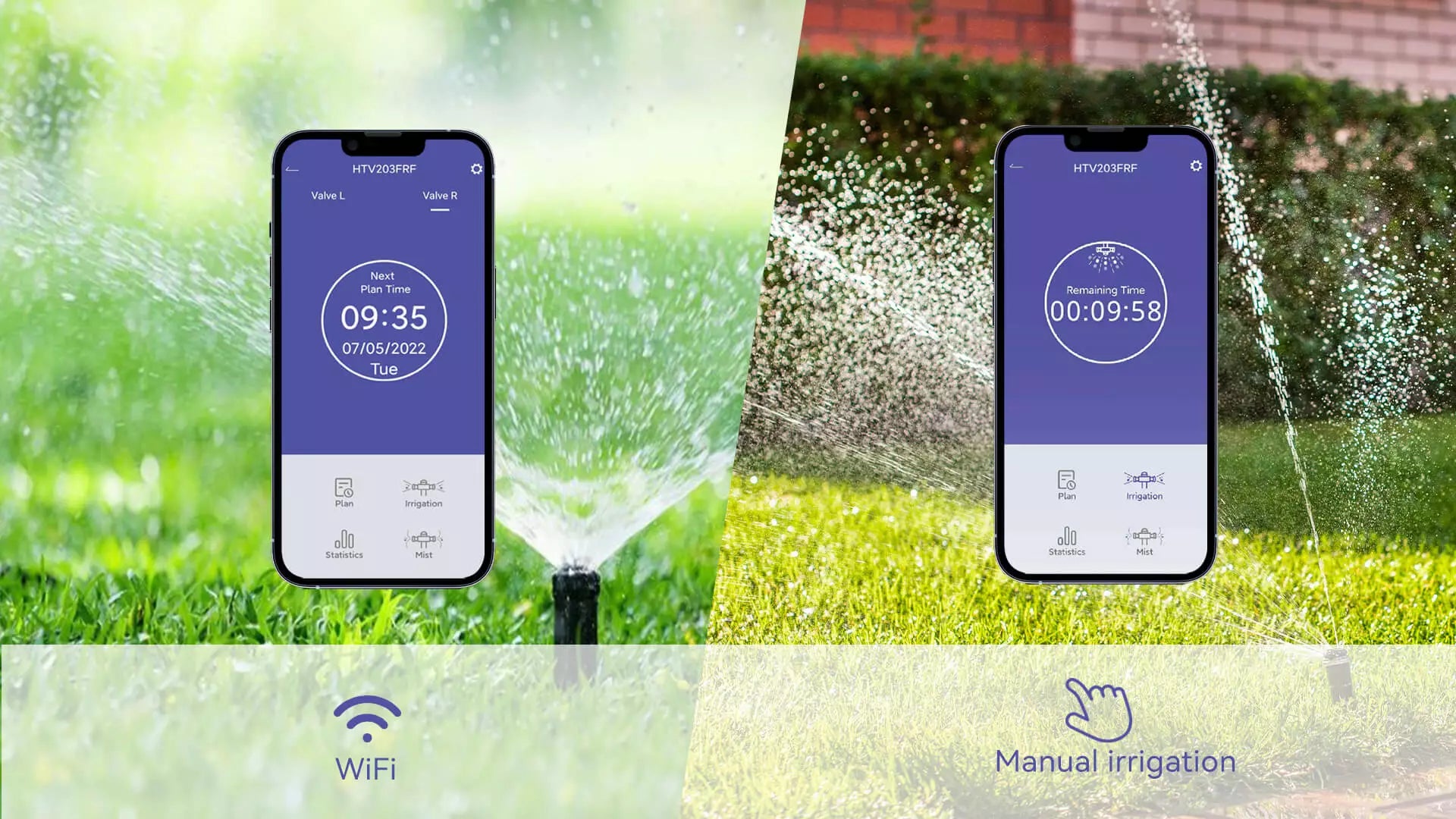 RainPoint aims to build the world's leading irrigation watering control system with both traditional stand-alone irrigation timers and smart irrigation control devices, including manual control and remote execution by an app while monitoring humidity and water consumption. RainPoint never stops its steps to innovate. With the leading technology, Rainpoint is trying to build a dream smart home and garden system, providing customers with a high quality of life and a high-quality garden experience.